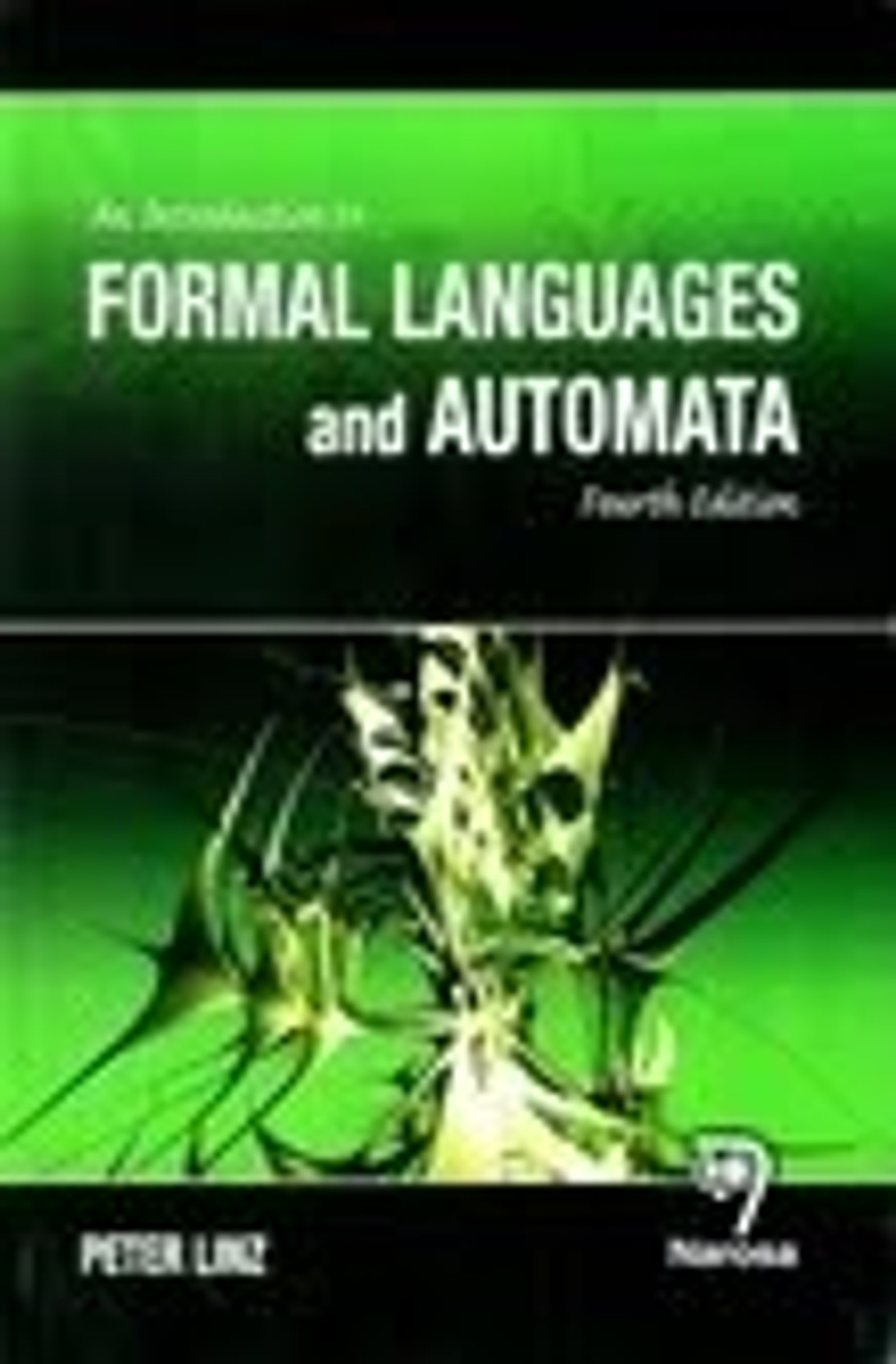 An Introduction To Formal Languages And Automata 4th Edition (English, Paperback, Peter Linz)
An Introduction To Formal Languages And Automata 4th Edition  (English, Paperback, Peter Linz)

?
Seal of Quality & Speed
6 Quality Checks

You get exactly what you ordered

Fast & Free Shipping

Lakhs of products delivered within 2-4 days & Free Delivery*
Sold Out
This item is currently out of stock
Language: English
Binding: Paperback
Publisher: NAROSA BOOK DISTRIBUTORS PVT LTD-NEW DELHI
ISBN: 9788173197819, 8173197814
Edition: 4th Edition, 2010
Pages: 430
10

Days Replacement Policy

?

| Validity | Covers | Type Accepted |
| --- | --- | --- |
| 10 days from delivery or installation* | Damaged, Defective, Item not as described | Replacement |

*The validity for products installed only by Flipkart authorized personnel shall be 10 days from installation.

If you have received a damaged or defective product or if it is not as described, you can raise a replacement request on the Website/App/Mobile site within 10 days of receiving the product.

We will help you troubleshoot any issues you may have, either through online tools, over the phone, and/or through an in-person technical visit. If no defect is confirmed, the issue is not diagnosed within 10 days of delivery, a troubleshooting step cannot be performed, or if one replacement has already been provided, you will be directed to a brand service centre to resolve any subsequent issues.

Successful pick-up of the product is subject to the following conditions being met:

Correct and complete product (with the original brand/product Id/undetached MRP tag/product's original packaging/freebies and accessories).
The product should be in unused, undamaged and original condition without any scratches or dents.
Before returning a Mobile/Laptop/Tablet, the device should be formatted and screen lock should be disabled. iCloud account should be unlocked for Apple devices.

Know more about the Return Policy here
An Introduction to Formal Languages and Automata is a textbook that teaches the students about the concepts, rules, and the construction of a formal language.
Summary Of The Book
A formal language is defined as a set of symbols, governed by specific rules of a language. Formal language is a subject of study for the students of Linguistics, Computer Science, and Mathematics. Like any other language, Formal Language too has its alphabet, words, and grammar. The strings of its alphabet are a finite set of tokens, letters, and symbols. These strings are called words, or well formed formulas. The grammar that governs a formal language is called context free grammar, or regular grammar. The study of formal language theory focuses on understanding the syntax and the pattern that constructs such languages.
In this book An Introduction to Formal Languages and Automata, Peter Linz beautifully presents all the important concepts for an introduction to the theories of formal language and automata. This book is written in candid English, with least usage of mathematical expressions to make the students understand the concepts easily, without making them frustrated with too much of technical detail.
This book starts with an introduction to the theory of computation. It then presents some of the key concepts of formal language and automata, like, finite automata, pushdown automata, context free languages, regular languages, normal forms, algorithmic computation, and turing machines. All the concepts are categorized properly under different chapters. As an added advantage, the author has also provided exercises at the end of every chapter to emphasize on the important theories and concepts that are being presented, and also to help the student gauge his or her understanding of those concepts of formal language and automata. At the end of the book, a list of answers of all the questions is provided for efficient learning of the students.
About Peter Linz
Peter Linz is a scholar, in the field of designing problem solving standards for computation.
Peter Linz has authored and co authored many books in the field of finite language and automata. Some of his works are, Theoretical Numerical Analysis: An Introduction to Advanced Techniques, Exploring Numerical Methods: An Introduction to Scientific Computing Using MATLAB, Analytical and Numerical Methods for Volterra Equations, and JFLAP Activities for Formal Languages and Automata.
Peter Linz was awarded a PhD Degree from the University of Wisconsin, in the year 1968. He is now working as an emeritus professor. His area of interest is the study and designing of mathematical and logical methods, and formulating problem solving mechanisms for computing.
University Books Details
Specialization

Computer Science Engineering, B.Sc(Computer Science), Electronics and Communication Engineering, Computer Science Engineering

Term

7th Semester, 4th Semester
Safe and Secure Payments. Easy returns. 100% Authentic products.